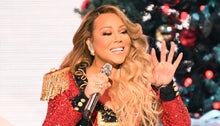 Veinticinco años después de su lanzamiento, "All I Want For Christmas Is You "de Mariah Carey ha alcanzado la cima de la lista Billboard Hot 100 por primera vez en convertirse en la canción número 1 en el país.
La artista discográfica multiplatino ahora tiene 19 canciones número 1 a su nombre, incluidos clásicos como "Vision of Love", "Emotion" y "We Belong Together", extendiendo su récord como solista con más éxitos número 1 en la historia.
Carey está a solo un sencillo de superar a The Beatles, quienes tienen el récord general de todos los tiempos con 20 Hot 100 No. 1s.
"Lo hicimos" La cantante de "Precaución", escribió en reacción a las noticias en Twitter el lunes, agregando un puñado de emojis, incluyendo una mariposa y un cordero, ambos emblemas de su fandom.
Esto marca Carey es la primera vez que se sienta en la cima de las listas desde su lombriz pop de 2008 "Touch My Body".
Coescrita por el músico Walter Afanasieff y por Carey, de 24 años, "All I Want For Christmas Is You" "Fue lanzado en 1994 de su álbum" Merry Christmas ". Anteriormente alcanzó el puesto número 3 en las listas en 2018.
El clásico moderno de Navidad ahora se ubica como la canción navideña más alta en más de 60 años. "The Chipmunk Song" de Chipmunks (con David Seville) es la única otra canción navideña que posee el título, que encabezó las listas durante semanas desde 1958 hasta 1959.
Carey, quien completó un compromiso limitado All I La gira de Want For Christmas el domingo por la noche se ha duplicado en la temporada de este año en un esfuerzo por impulsar las perspectivas de la canción en las listas de Billboard.
Además de una campaña dinámica en las redes sociales que incluyó a la cantante anunciando la alegría navideña el primer día de noviembre, también dejó caer imágenes invisibles del video musical original, relanzó una edición de aniversario de lujo de "Merry Christmas "Y se asoció con Amazon en un mini documental sobre la historia de la canción.
Carey apareció recientemente en un segmento de" Billy on the Street ", en el que reveló que el éxito solo le llevó una hora y media escribir.